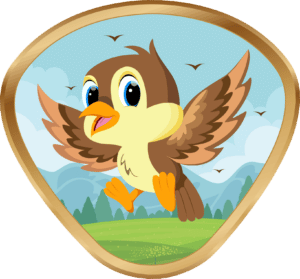 Basic Requirements
1. Recite the Adventurer Law
2. Complete the Story Listening II award
3. Complete the Birds award
My God
God's Plan to Save Me
1. Color a story chart or lapbook about the people in the Bible who prayed: Samuel, Daniel, Jonah, David.
2. Learn how to pray independently.
3. Earn the Jesus Star award.
God's Message to Me
Complete the Bible Friends II award
God's Power in My Life
1. Have a regular family worship time in your home. Keep a record.
2. Ask someone you know why they pray
3. Complete the God's World award
My Self
I Am Special
1. Complete the Left & Right award
I Can Make Wise Choices
1. Complete the Manners Fun award
I Can Care for My Body
1. Complete the Know Your Body award
My Family
I Have a Family
1. Say the fifth commandment: "Honor your father and your mother" (Exodus 20:12)
• Families Care for Each Other
1. Complete the Home Helper I Award
My Family Helps Me Care for Myself
1. Complete the Fire Safety award
My World
The World of Friends
1. Complete the My Community Friends award
The World of Other People
1. Complete the Playing with Friends award
The World of Nature
1. Complete the Scavenger Hunt award
Other awards that may be earned by Early Birds include:
• Alphabet II
• Animal Homes
• Animals
• Cyclist I
• Swimmer I
• Crayons and Markers
• Gadgets and Sand
• Jigsaw Puzzle
• Pets
• Shapes & Sizes
• Sponge Art
• Stamping Fun I
• Toys