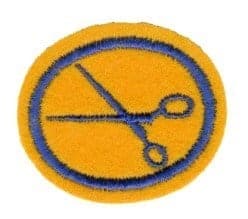 Level: 1
Requirements
Have the Basic Sewing Honor.
Identify samples of different fabrics including cotton, linen, wool, rayon, nylon, Dacron, and burlap.
Have a practical sewing box for your sewing supplies. Include in it a pin cushion, tape measure, pins, needles, thread, and scissors.
Show how to straighten fabric before use.
Demonstrate how to place pattern on fabric according to pattern layout, being sure all pieces are correctly placed on straight of fabric.
Know the following terms:

Baste
Bias
Blind hem
Grain of fabric
Overcast
Zigzag

Make one of the following:

A skirt, putting in zipper and sewing on waistband. Make sure skirt is hemmed to hang evenly.
A blouse, and explain how you would adjust the shoulders for persons of different body types.
Download Honor Book