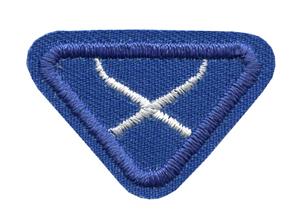 Requirements
Describe how to care for skis and boots.

Demonstrate the following:

How to carry your skis

How to put them on

How to fasten them

Demonstrate how to climb in steps, in scissors, and how to make a kick turn.

Demonstrate how to sideslip and go over bumps.

Demonstrate how to turn right, left, and brake.

Describe the different kinds of snow.

Demonstrate the following:

How to run a short slalom of six gates
OR
Safely ride a beginner's lift and ski the beginner's hill under control and in good form.
Answers
NOTE: Activities leading to this award must be supervised by an adult who skis well.
Skis and boots should be wiped clean and be dry before storing them.
If you do not ski, invite someone who does to teach these basic skills to your Adventurers.
Adventure Awards Book